Natalie has been looking forward to her Beach Party in her class all week. They were supposed to bring in a beach towel today along with their show and tell that is something that has to do with the ocean. Today was the day. Unfortunately, she is sick for the second day in a row and couldn't go to school again. :( She was so sad. I told her we would have our own beach party today instead.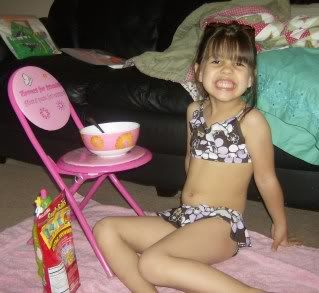 Not your typical beach foods though. Natalie had Chicken Noodle soup, pickles, peanut butter crackers, & water. I had tuna salad, pickles, and a dt. coke.
Later after nap time, maybe I will take her swimming to try out her new swimsuit...in the bathtub!
I think she's enjoying herself!