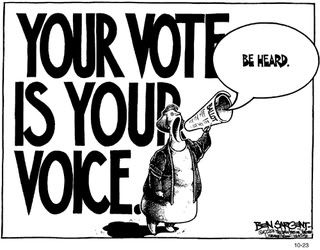 Your vote is your voice. You cannot complain about what happens unless you vote. You have the right to Vote. Just do it! Every Vote Counts!
I will be voting tomorrow. I feel a bit discouraged that the candidates are my only choices this year. However, I cannot dwell on that. I have to vote for who I think will be the best for my Country. I don't completely follow politics. There are many things I don't really know much about. These are the things that I do know:

1. I don't believe in Abortion and I would never have one. However, who am I to tell another woman what they should do with their own life?
2. I believe that we needed to go into this war the way we did and I stand behind President Bush's decisions on it.
3. I believe that we need to continue further with Stem Cell Research. This could be the only way we find cures for diseases such as AIDS.
4. I believe that we need to make it possible for EVERYBODY to be able to afford Health Insurance no matter how much money you do or don't make.
5. I believe that our borders MUST be more secure.
6. I believe that we have the right to bear arms.
7. I believe that homosexuals should have the same rights as anyone else. If they love one another and want to enter into a union together, who am I to say they shouldn't?
8. I believe in the Space program.
Sometimes I wonder if I should have all of these beliefs. I am a practicing Catholic. I go to Church every week. My child goes to Catholic School. I believe in my religion but I also believe in my opinions above. I will be voting tomorrow for who I think will be best for our Country.
I will be voting for McCain. I just cannot vote for Obama based on who he is associated with. I know he is not those people, but he is associated with them.