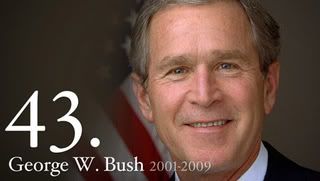 It was an honor to have you as My President.
Glenn Beck summed it up perfectly for me at the end of his show today.
"Mr. President, on the darkest day you gave us hope when we were hopeless. You were unafraid when we were terrified. You lead when nobody else wanted to. Mr. President you don't have any idea what you meant to me personally right after 9/11. Job well done Good and Faithful servant. Thank you Mr. President."

I

(heart)

Glenn Beck!