Okay, so here's the story! On the day after Thanksgiving I ate a pecan and my lip swelled up. I ended up biting my lip.......HARD! I immediately had a mucocele start growing. (An
oral mucocele
, also referred to as
mucus extravasation phenomenon
, is a
swelling
of
connective tissue
consisting of collected
mucin
from a ruptured salivary gland
duct
, which is usually caused by local trauma.) It pretty much feels like a marble underneath your lip. When they take it out it is a little round ball. A few weeks ago I stopped by my dentist and he drained it. The draining lasted about 2 days before it filled up again so he referred me to an oral surgeon. It is snowing and icing here so there is a school day today. I called the Oral Surgeon and asked if they had any cancellations today and if I could get in. An hour later I was sitting in the chair with my lip being cut open! I have to go back in two weeks to make sure the stitches dissolved correctly and that the pathology report on it is good! Here are before and after surgery pics!
WARNING! SOME OF THEM NOT FOR THE FAINT OF HEART!
Here is with the stitches.
24 hours later: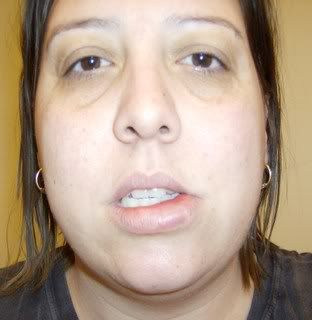 48 hours later:
So today it feels like it's ripping apart. It's definite pain! I am eating ice pops today!
It is now 72 hours later. I'm not sure it is supposed to look like it does. It looks like the stitches are dissolving but it's still a hole in my lip. I will stop by the surgeon's office tomorrow after work if I get off early.