Welcome to the 5th and final day of our spring break fun. We have come full circle! Daddy surprised us by taking the day off and having breakfast with us. He went out and got us Grandy's.
Natalie had pancakes and bacon.
Mommy and Daddy had eggs, bacon, and biscuits w/ gravy.
Later, we met some friends at Cold Stone and had some ice cream.
The lady suckered me into the chocolate sprinkle waffle bowl. I didn't like it, but it was so expensive that I felt I
had
to eat it!
Natalie had strawberry w/ rainbow sprinkles and I
had peanut butter w/ peanut butter cups.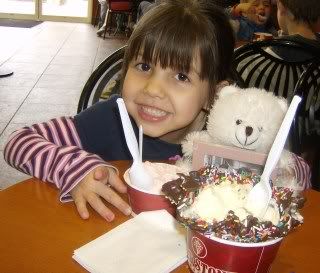 Here's Natalie buying some water.
After ice cream we had to go grocery shopping. Always a fun event!
After we got home, I decided on a whim to go to the movies.
So, there we have it. 5 days of Spring Break fun!
Totals for the day:
Grandy's: $5.00

Ice Cream/Water: $10.00 (I could have bought 3 gallons!)

Movies $14.50
Popcorn/Drink: $9.00
Daddy gave us $20 for the movies!

Total for day 5: $18.50
5 Day Total: $99.21 which makes .79 cents to spare!